Details and Rules
Sun., November 5, 2023 (1:30 p.m.) – Thu., November 9, 2023 (12:00 p.m.)
Instructions
Log in via the Settings tab in the AVS Events mobile app.
Review the official rules and learn more about the game.
Follow the clues to find QR codes.
Scan each QR code you find to collect points and add to your score. Each activity has a listed point value that is automatically added to your total score once scanned.
Official Rules
The Scavenger hunt officially "opens" on Sunday, November 5, 2023, at 1:30 p.m., at which point, players can begin an amazing adventure!
You may only receive points for each event/task  once.
Players must accomplish as many tasks and challenges as possible in the time available and in any order they wish. There are many tasks, so do your best to find as many as you can to ensure you receive the most points!
Once a challenge has been completed, use the QR code tab in the AVS 69 app to scan QR codes provided by AVS staff, exhibitors, or designated personnel—follow the directions listed on the task to secure your points.
Continue to review the leaderboard near the Registration area, to see how you are stacking up against the competition.
Be safe and sensible when you're running around the Symposium and Exhibition. Please be respectful, courteous and don't endanger yourself or others or do anything illegal for the sake of acquiring points.
If you have any questions during the Scavenger hunt, please email scavengerhunt@avs.org.
The game officially "closes" on Thursday, November 9, 2023, at 12:00 p.m. No scans will be performed after this time.
Post-Game
Winners will be announced in the Exhibit Hall A: Booth 523 (Raffle Zone) on Thursday @ 2:00 pm.
The top 5 highest point-getters will receive a prize. In the event of a tie, the winners will be determined by the time the final points are received.
Winners must be present to claim their prize.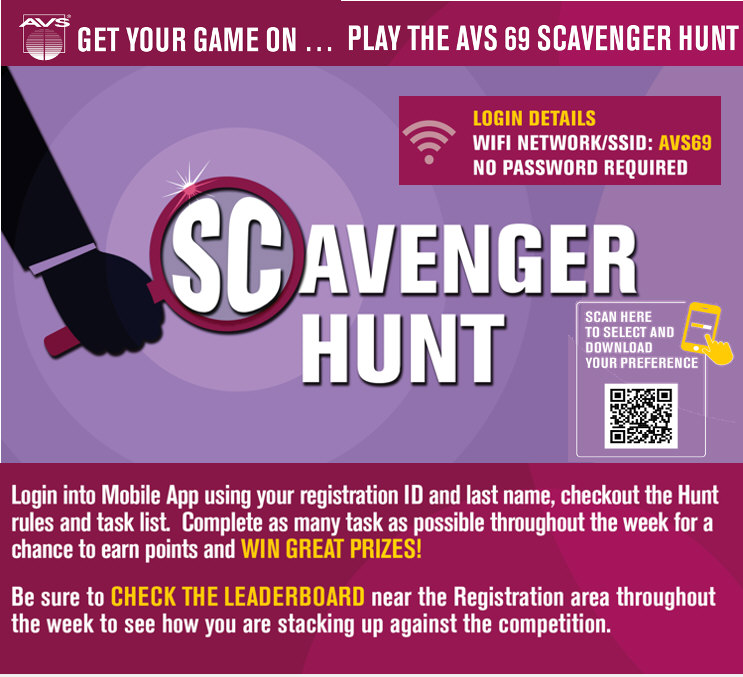 To login, please enter your Registration ID and Last Name to access messaging, scheduling, favorites between devices and the online planner.
* Your Registration ID can be found on your AVS 69 Confirmation Receipt near the barcode.